What is the Google 3-Pack, and why should it matter to your business?
When you search for a local business on Google, the first three results that typically display are what's known as Google 3-Pack. Google 3-Pack is a format for displaying top results for local business searches. The 3-Pack sits alongside a map that shows where each business is located, along with basic information about each of them. The 3-Pack's position above organic search results makes this valuable real estate for any local business trying to reach consumers with local intent. Here is an example of what a Google 3-Pack looks like when I searched for "shoe store near me":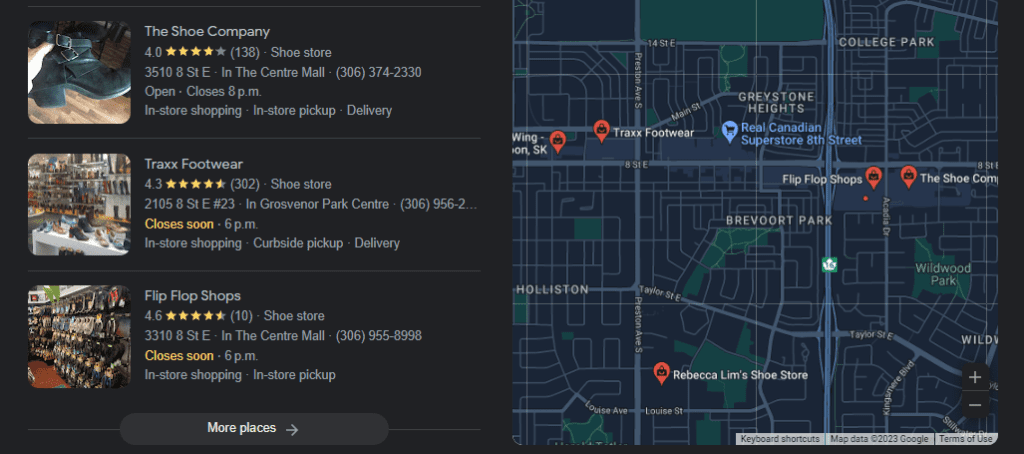 Ranking in the Google 3-Pack results in improved visibility and more clicks, no matter your industry.
Interested in being displayed in the Google 3-Pack? There are 7 components to improving your local search ranking and increasing the likelihood that you are. They are listed below:
Google Business Profile (Proximity to the searcher, categories, keyword in business title)
Reviews (Review quality, review velocity, review diversity)
On-Page (presence of NAp, keywords in titles, domain authority)
Links (Inbound anchor text, linking domain authority, linking domain quantity)
Citations (Location Data, IYP/aggregator NAP consistency, citation volume)
Behavioral (Click-through-rate, mobile clicks to call, check-ins)
Personalization (Search history, Search location, Device, etc.)
Here is how heavily weighted each of the above components is when determining local search rankings: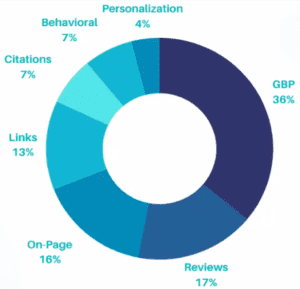 Interested in being displayed more prominently in Google and increasing the likelihood your business is featured in the Google 3-Pack? View our Google Accelerator package in our online store.